Aiseesoft FoneLab iphone data recovery Software is a fast recovery app for your iphone device. It gives you the ability to recover your lost files in your iphone. The iOS data recovery app can recover wide range of lost contacts, media files, messages and memos in a moment. It is that Quick. This software is light, fast and easy to use.The only downside is that you are not allowed to test it before buying. But i assure you, it's the best recovery tool for iphone.
FonLab
iPhone Data Recovery

Review

It can Retrieve all your lost files while keeping current details intact.
It can recover deleted file types on devices - iPhone 4/3GS, iPad 1 or iPod touch 4
You can recover and export various data from other iOS device, ilke iphone8, iPhoneX, & iphone8 Plus.
Preview backup files before restoring them.
Get back data from your iTunes backup.

PROS: USING
FONLAB IOS DATA RECOVERY
#1. Straightforward interface: Fonelab iphone data recovery software is easy to use. The interface is well designed to help you navigate easily.
The recovery features are well placed on the left side for easy understanding. As soon as you install the app, it will prompt a screen to download the Itune version.
If you already purchased the registered software you will be prompted to connect the IOS device with USB cable.
#2. Has Three recovery features: FoneLab iOS data recovery app offers three  recovery features :
It recovers from your iOS device.
It recovers from iTunes backup, and
From iCloud backup file.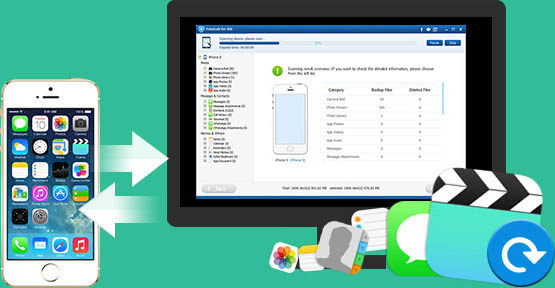 The software start to scan as soon as you authorize your computer. In the process of recovery the FoneLab iphone data recovery downloads the file after recovery.
It takes about a minute to perform recovery. It out rightly recovers all deleted files, messages, contacts, bookmarks and so much more.
Just use the check box in the interface to select which type of files you want to recover.
#3. Recovers All WhatsApp Messages and attachments:  FoneLab iOS data recovery app is not limited to mobile information recovery, but also recovers lost messages and attachments on your whatsapp.
Aiseesoft FoneLab is a powerful software that goes beyond simple recovery process but also advance recovery process. It's available for window users. You can download Data recovery for mac here.
Iphone Data Recovery Software

For Windows
The software is available for window operating system.
The windows version comes with 3 recovery mode.
You can Preview your recoveries.
wide range of selections.
To install for windows, simply download the window version.
Iphone Data Recovery Software

For Mac
One of the best iphone recovery app.
Recover any accidental deletion.
Fast, easy and simple to restore from iCloud, Itune and IOS system.
Preview recovery files before full recovery.
Easy the get back your lost files.